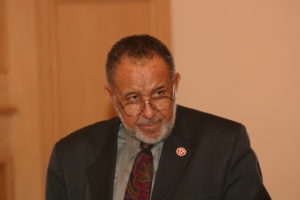 Reverend Caldwell is responsible for JLI's grounding concepts of History, Heritage, & Hope.  He gave the Johnsons the following proposal at Christine Johnson's memorial service:  It has been written and often spoken, "They who do not remember their history are likely to repeat it" (paraphrase). History must be remembered because in remembering, a person, a family, a group of people, even a nation, will not be able to avoid the heritage that has evolved from that history.  It is in history that we say "yes" to heritage, and history and heritage are the source of profound hope.
It was through my getting to know and love and then honor Christine and Byron Johnson that these three H's took on new and powerful meaning for me.  You see, it was my privilege as a United Methodist minister to become the minister/pastor of the Johnson's at Park Hill United Methodist Church in Denver.  I first got to know Christine, and I discovered that she was a beloved "saint"as an African American member of that predominantly white United Methodist church.  Her love of young people, her willingness to express a solitary "amen" in the midst of a worship service, and her devotion to her husband Byron and her family made her "minister" to me, even though I was the official minister.
During her illness as I visited and talked and prayed with her, I discovered that she knew that even with all of the love she shared, in and out of church, some few people had allowed their captivity to American racism shape their response to the reality of her African Americanness.  Her honesty about those few persons who were unable to authentically embrace her and her husband Byron pushed me to suggest to the family a lecture/discussion series in her name.  That series is now the Byron & Christine Johnson Lecture/Discussion Series, and as you read this you will get to know the depth and breadth of Johnson Legacy, Inc.
History — The Brothers Johnson ("Johnson" coincidence) wrote the words and music for "Lift Every Voice and Sing," a hymn described as the Negro National Anthem.  In it are the words, "We have come over a way that with tears has been watered." The truth of these words was known by Christine and are known by Byron.  Yet in the best tradition of the African Diaspora, they and millions of other African Americans transformed those tears into commitment, dedication, and accomplishment.  Byron, Negro Leagues baseball star, educator, excelled because he was determined to follow the words that some of us sang on picket lines often, as we were being arrested: "Ain't gonna let nobody turn me 'round."  That is the history of survival and determination every young person must grasp.
Heritage — If persons and a people have not discovered their "somebodiness," they have not understood their heritage.  The legacy Christine and Byron leave is a confidence in who and whose they are, regardless of who others may think they are.  This is the heritage of the Black Experience; tragically, some have not understood it, or have failed to claim it.  But it is a heritage that is of universal value for all people if they seek to understand it.
Hope — The spirituality of Christine and Byron, a spirituality that sustained her and sustains Byron in his 90 plus years, is rooted in the Christian faith, but it is not limited by the constraints of institutionalized religion.  Hope is at the heart of any person who believes with the spiritual, "Trouble Don't Last Always."  When a person and/or a people believe in the particular genius of their creation and dare to "claim" that genius, how could they be without hope?  History, Heritage, Hope.  Hallelujah, Hallelujah!
Reverend Gilbert H. Caldwell
Denver, Colorado
July 1998