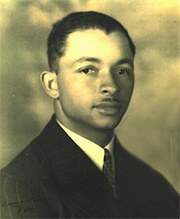 Byron "Mex" Johnson was born on September 16, 1911 in Little Rock, Arkansas, the youngest of nine children, and attended Stephens Elementary School and Dunbar High School while in Little Rock.  An excellent athlete, he played football on his high school team while at the same time playing baseball for the Dubisson Tigers, a local semi-pro team.  After graduating from high school, he attended Dunbar Junior College for two years before transferring to Wiley College in Marshall, Texas, completing a B.S. in Science in 1936.
Asked to try out for the position of shortstop with the Kansas City Monarchs, Johnson made the team in 1937.  Known by his childhood nickname "Mex," he began playing with Negro Leagues greats, like Buck O'Neil, Bullet Rogan, Hilton Smith, Turkey Stearnes, Josh Gibson, and Cool Papa Bell.  After two years, he joined the Monarchs traveling team, playing with the legendary pitcher Satchel Paige until 1940.  After leaving the team, he returned to Little Rock, where he taught biology and coached football at Dunbar High School before being drafted into the military during World War II, arriving overseas during the Normandy Invasion.
Honorably discharged in 1945, he suffered post-war effects that took him out of teaching and into the Little Rock post office, a move from which he benefited during the desegregation of Central High School.  Taking Carlotta Walls LaNier, the youngest of the Little Rock Nine, to Central during the tumultuous year of 1957, Byron witnessed firsthand the racial unrest of that time and decided to take his family out of Arkansas.  A transfer with a postal worker in Colorado made his decision to leave a reality, and the Johnson's moved to Denver in 1958.  Ironically, the battle with racism continued, and Byron filed a discrimination suit against the Denver postal service, which he eventually lost.
Years later he retired from the postal service, his athleticism having found outlet with the post office softball team.  After retirement, he accepted a job at the United Bank of Denver, where he coached the women's softball team there to three straight championships.  While he continued to play softball well into his sixties, he later became an avid golfer, shooting a hole in one on his 81st birthday.
When Colorado acquired its professional baseball team, the Colorado Rockies, Byron began to receive recognition for those early years in the Negro Leagues.  He threw out the first pitch for Rockies' games in 1993 and 2000, he returned to Missoula, Montana (where he had played sixty years earlier) to throw out a first pitch, and he began lecturing at schools and organizations on his baseball days and his experiences growing up in a segregated South.  His baseball legacy has been recorded in several baseball history books, like James A. Riley's Biographical Encyclopedia of the Negro Baseball Leagues.
He served as president of the Denver Chapter of the National Dunbar Alumni Association and was acknowledged for his contributions as a teacher and coach by the national organization.  Coaching some of his great-grandchildren in their athletic endeavors, he also maintained a mean golf swing well into his 90's.  A book on his life entitled, Legacy of a Monarch, was published in 2005.  Its author was Denver Writer Jan Sumner, while the Introduction was written by Don Baylor, former manager of the Colorado Rockies, and the Foreword was written by President Bill Clinton.  Byron Johnson made his transition on September 24, 2005, shortly after reaching his 94th birthday.