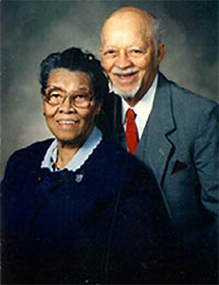 Overview of Johnson Legacy, Inc.
Following the death of Christine Johnson in 1998, longtime member of Park Hill United Methodist Church, Reverend Gilbert Caldwell, the church's Associate Minister, proposed that a lecture series be established in her honor, a series that would provide a forum for open dialogue about issues of cultural and racial diversity.  An initial session was begun in December of that year, the complete inaugural sessions commencing the following year and bearing Christine Johnson's name.  At the beginning of the second year, the name of Christine's husband Byron was added to the title, and following the completion of that year's lectures, the Johnson Family decided to start a nonprofit in order to continue their legacy of Byron and Christine Johnson as educators, activists, and community leaders. The result was Johnson Legacy, Inc. (JLI), which was incorporated in April 2000.
In order to continue the legacy of the Johnson's, the mission statement of JLI is to develop and support programs that promote an awareness of history, an appreciation of heritage, and the renewal of hope in the face of great odds; an added aim is to build a sense of community that stretches across cultures.
A past program was the Byron & Christine Johnson Lecture/Discussion Series, which also became  a college course in the Department of Africana Studies at Metropolitan State University of Denver in 2002. Students registered for the course under the title, AAS 449E: The Johnson Lecture Series: A Community Outreach Course.  A past and continuing program is Gullah/Geechee Studies & Trips, which to date has offered the 2012 exhibit, "The Water Brought Us: Passport to Africa in America," and the 2007 Gullah Studies Institute, "The Water Brought Us:  Gullah History & Culture," as well as several group trips to coastal South Carolina, Georgia, and Florida.  Future programs will be online courses offered through the JLI Website.  A current course offering is "Britain's Abolition of the Slave Trade."