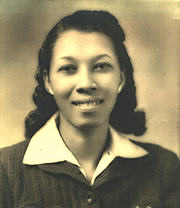 Christine Torrence Johnson was born on December 1, 1913 in Danville, Arkansas, a small town about eighty miles from Little Rock. Around age five, she moved with her family to Little Rock, the larger city providing better educational opportunities for Black children. There she attended Stephens Elementary School and Dunbar High School, where she graduated in 1932.  After completing one semester at Dunbar Jr. College, Christine accepted a teaching job in her hometown of Danville, a position paid for by Roosevelt's WPA.  At age 18, she found herself in a one-room school teaching various subjects to students at various levels, most of whom were her cousins.  She had also discovered her lifelong calling.
One year later, she accepted a teaching position in Lonoke, Arkansas, a city where her mother had sold life insurance, and taught there for ten years.  During this time, she married Byron Johnson, a longtime childhood friend who was then playing in the Negro Baseball Leagues.  Eventually she returned to Little Rock where she taught at Stephens Elementary School, her former school, and in 1951 she was able to complete her B.A. at Philander Smith College, graduating magna cum laude.  In 1958 she moved with her husband and two children to Denver, Colorado, a move prompted by the desegregation of Little Rock's Central High School. The Johnson's were witnesses to the turmoil of the times, largely because of their close relationship with Carlotta Walls LaNier, the youngest of the Little Rock 9.
Christine would teach in various elementary schools in the Denver Public Schools, largely in reading and vocal music, until she retired in 1978 at the age of 65.  She then substitute taught for the next five years. In 1992, when she and Byron sold their home and moved into the Denver Educational Senior Citizens Building (DESCI), Christine brought her love of music to the residents, leading programs there until the year before her death.  She served as president of the Denver chapter of the National Dunbar Alumni Association (NDAA), an organization composed of former students of Little Rock's Dunbar High School, and was instrumental in starting the group's Perpetuity Scholarship to benefit gifted African American students.
Her death in 1998 brought to an end a life that had been devoted to bettering the lives of young people.  Her formal teaching had spanned over fifty years, but in truth education had been the focus of every aspect of her life.  Always active in the church, she taught Sunday school at both White's Memorial Church in Little Rock and Park Hill United Methodist Church in Denver.  She tutored young people in her home from her students to the children of friends and relatives who sought her assistance.  And though her own children, grandchildren, and great-grandchildren received their first schooling from her, whether family or not, all who came under her tutelage received the same admonition:  "We don't have any dumb people or ugly people around here."  To her this meant that you always performed to the best of your ability and that you always looked good doing it!  The success of her endeavors was a testament to one who had found and lived her life's calling.