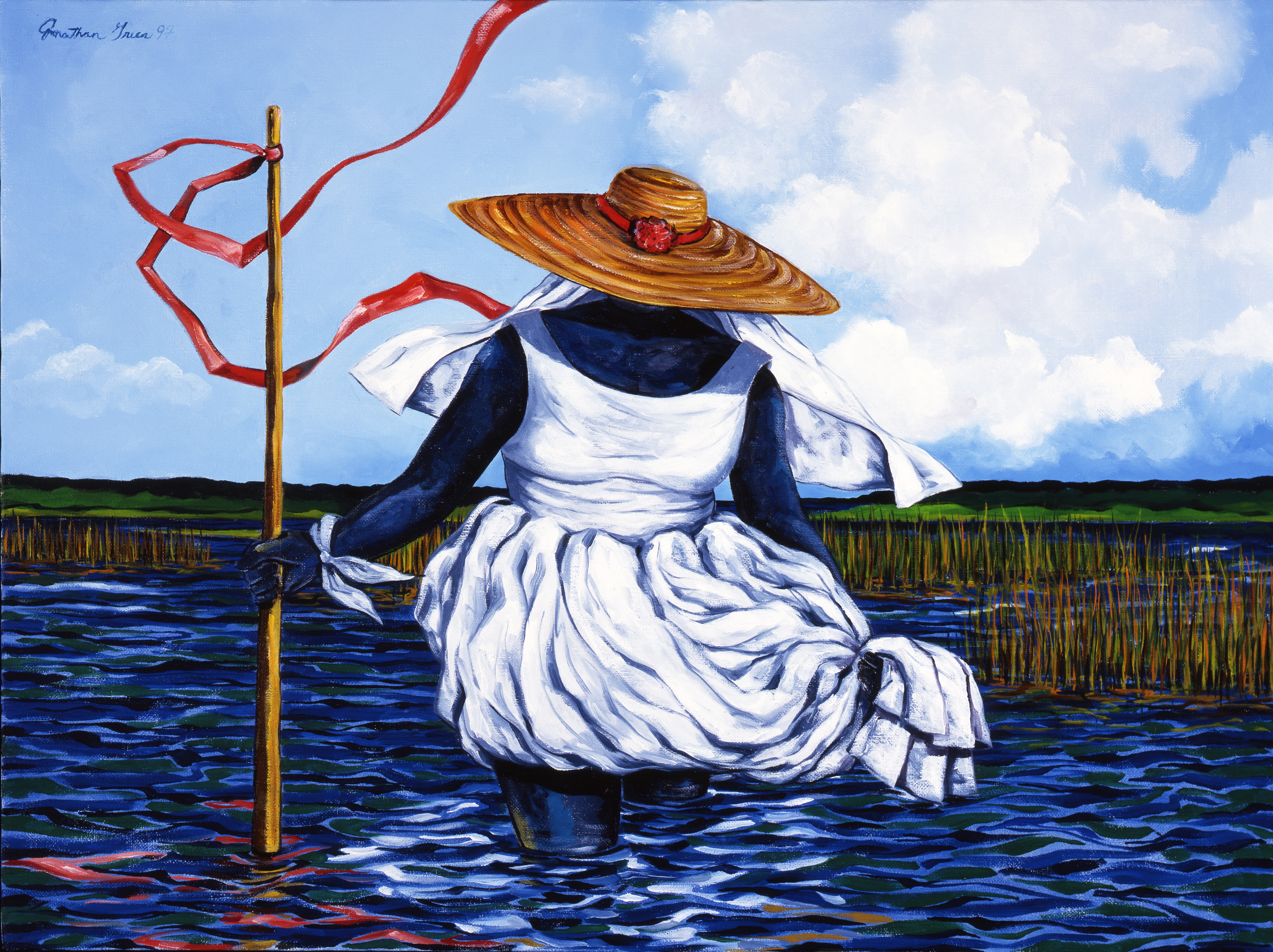 The Water Brought Us:  Passport to Africa in America
In 2012, JLI hosted a two-week exhibit on Gullah/Geechee Culture entitled, "The Water Brought Us: Passport to Africa in America," Held in partnership with RedLine, the art space in the Five Points area, the exhibit ran from September 7-22, bringing in Gullah Visual Artist Jonathan Green, Gullah Storyteller Carolyn "Jabulile" White and Gullah Sweetgrass Basket Maker Henrietta Snype, all from coastal South Carolina.  The exhibit also brought in the McIntosh County Shouters from coastal Georgia, practitioners of the Gullah/Geechee religious practice known as the "Shout."  Art Jones and the Spirituals Project, a local group, was also featured, as well as a showing and discussion of Julie Dash's film Daughters of the Dust.
The Water Brought Us:  Gullah History & Culture
In July 2007, JLI hosted a Gullah Studies Institute in partnership with the Department of Africana Studies at Metropolitan State University of Denver. The weekend event was held June 29-30 on the Auraria Campus in Downtown Denver and brought in Gullah speakers, artisans, and scholars from South Carolina, Georgia, and Virginia.  Activities included sessions on Gullah history, storytelling, and song,along with a sweetgrass basket workshop.  Gullah films were available for viewing, presenters were on site for book signings, and the event culminated with a meal prepared by M & D's Cafe, featuring authentic Gullah dishes.
2015 & 2013 Trips
The 2015 was a repeat of the previous trip in 2013, which took us to coastal South Carolina, Georgia, and Florida; however, there were two key additions.  One was the much anticipated museum dedicated to MaVynee Betch, "The Beach Lady," which had been completed on American Beach in Florida.  A particularly meaningful moment was seeing her signature seven feet long dreadlocks lovingly displayed at the museum.  The second addition brought all of our trips around full circle, since the spirit of Ibo Landing had been in them all, when Chip, one of our tour guides on St. Simons Island, in Georgia, would narrate the story of Ibo Landing and sing the song, "Oh, Freedom," to acknowledge those lost ancestors when we got as close to the site as we could.  It was more moving than I can describe when we were able to actually stand on the soil of Ibo Landing for the first time, during this last trip.  Celeste, one of the students, said, "The ancestors were with us."
The 2013 Trip was full of changes, since this was our largest group and required accommodations at two houses on the Penn Center grounds.  We also had members in our group from New York, Missouri, and California, along with Filmmaker Erica McCarthy, who gave us footage of our journeys to the Lowcountry for the first time.  We also ran into Gullah Visual Artist Jonathan Green at Heritage Days on Saturday, and he invited us to attend his church, Huspah Baptist, the next day.  It was quite extraordinary to me to see this internationally known artist standing outside his church doors to welcome each one of us inside.  This trip also included going to Florida for the first time to a Gullah/Geechee Exhibit in Jacksonville, the Kingsley Plantation, and American Beach on Amelia Island.
2011 & 2009 Trips
The 2011 Trip to South Carolina and Georgia was lengthened from five days to seven, a request of previous travelers.  Harris Neck was the first stop, where we attended a church service with Wilson Moran and his family, and the next day boarding the ferry to Sapelo Island, an island without a bridge connecting it to the mainland.  It was on to St. Simons the following day and ending the Georgia tours in Savannah, before heading to St. Helena Island in South Carolina for Heritage Days at the Penn Center; however, we also got to stop in the mainland city of Beaufort, South Carolina so that we could go to LyBensons, a Black art gallery there, and also stop by the grave of Civil War Hero Robert Smalls.  One memorable incident happened at the airport in Savannah when we recognized Congressman John Lewis, and several members of us got a chance to shake his hand.
Aside from continuing to attend the Heritage Days Celebration in South Carolina, Georgia became our major focus on the 2009 Trip, bringing with it significant changes.  One was that Wilson Moran of Harris Neck, Georgia, became our tour guide for the entire trip, accompanying us on all the Georgia sites.  They included tours on St. Simons Island, Sapelo Island, and the peninsula of Harris Neck.  It also included a tour in Savannah, as well as spending time at the Geechee Kunda in Riceboro, Georgia.  Another change was that we had individual tour guides at each site, who were native to the site, which produced particularly meaningful tours.
2008 Trip
This was an unexpected trip, taking place in June, which had come about when forty people expressed interest in the 2007 Trip, twice the number of accommodations we had reserved on the Penn Center grounds.  This swell in numbers was the result of excellent marketing of the trip by Former JLI Board Member Barbara Nichols, which prompted the creation of a new trip the following year.  We focused on further exploring Charleston, South Carolina, but also returned to John's Island to see the Angel Oak, and visited James Island for the first time. We also had a fabulous meal at The Gullah Cuisine Restaurant in Mount Pleasant, where we attended the annual Sweetgrass Cultural Arts Festival.
2007 & 2005 Trips
The 2007 Trip was our first one flying into Savannah, Georgia, rather than Charleston, South Carolina, since we realized that even though in Georgia Savannah was closer to St. Helena Island, South Carolina, than Charleston was, and we were again headed to the Penn Center Heritage Days Celebration; however, this change did allow us to experience Georgia for the first time, which we made a part of all subsequent journeys,  Worth mentioning at the airport in Savannah was the number of rocking chairs available for seating, which I appreciated.
The Gullah Experience class was first offered at Metropolitan State University of Denver in 2005.  It was a semester class, which included a five-day trip to South Carolina, students traveling through the university and community members through Johnson Legacy, Inc.  Participants flew from Denver to Charleston, South Carolina, and then stopped by John's Island, right outside of Charleston, in order to see the Angel Oak, a tree said to be 1,400 years old.  We then continued by car to St. Helena Island to take part in the annual Penn Center Heritage Days Celebration and got a chance to experience the ocean on Hunting Island.  This first trip would be a life changing one.